EARLY BIRD
October 01-31, 2023

REGULAR
November 1, 2023 TO March 15, 2024

LATE
March 16, 2024 TO APRIL 4, 2024

RACE WEEKEND
APRIL 5 – 6, 2024

Kids Ride – 30 Mins Solo Ride

Kids Ride – 30 Mins Family Ride
TRICYCLE RIDE
The 100m / 500m Tricycle Ride is specially designed for young kids between the ages of two and five, so even the littlest peddlers can ride in their own event! Each child can be accompanied on foot by one adult.
100 meters for ages 2 – 3
500 meters for ages 4 – 5
Free Bike Shirt
KIDS RIDE
Open to children between the ages of 6 and 15, this ride offers separate categorie for two different age groups. Children can safely enjoy this ride all by themselves or as part of a parent-child team.
30minutes solo ride
30minutes accompanying adult
Free Bike Shirt
30KM RIDE (SHORT)
Whether you are an amateur cyclist, or just looking for a fun day out, join this non-competitive ride as an individual or as a team. This ride is for anyone aged 10 and above.
Individual
package 3 + 1
Free Bike Shirt
45KM RIDE (LONG)
Ready for more? Take up this challenge, which is open to anyone aged 14 and above. You can take part as an individual or as a team.
Individual
package 3 + 1
Free Bike Jersey
60KM CORPORATE / TEAM EVENT
Want to ride with your teammates, barkada or gang and want another challenge. Register here!
Individual
Free Bike Jersey
**Registration is non refundable. Registration is non transferable.
2023 BIKE JERYSEY and SHIRT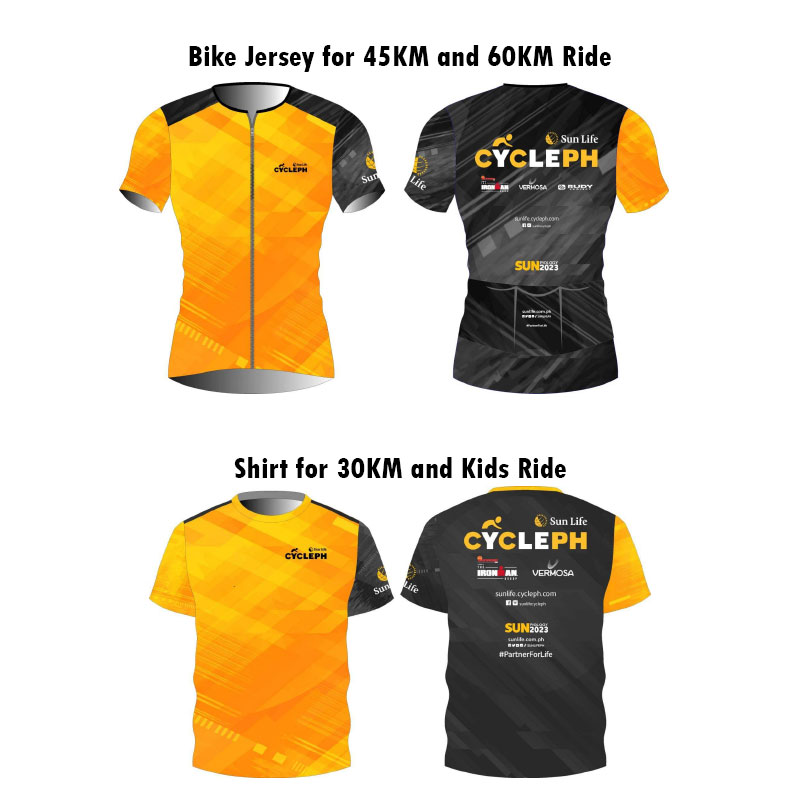 2024 BIKE JERSEY and SHIRT will be posted soon!